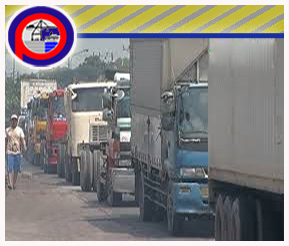 CEBU, Philippines - To address the "alarming" level of congestion at the Cebu International Port, an official of the Oriental Port and Allied Services Corporation appealed to local government units concerned to seriously revisit the ongoing truck ban.
"We strongly appeal for them to revisit the truck ban policy and seriously look into this problem," said Randy Vasquez, OPASCOR chief of finance and resource officer, describing the ban as one of the factors that contribute to the congestion.
Due to the lack of space at CIP, OPASCOR was forced to rent a space, - a 1.3-hectare lot fronting Sugbutel and another 2.2 hectare near SM City-Cebu. If combined, both spaces can accommodate at least 4,024 TEUs (20-footer container vans).
Jonathan Fernandez, OPASCOR chief for operations, said that CIP has a capacity of 7,707 TEUs, 5,411 of which are designated for imports. Currently though, there are already 5,942 container vans, more than 1,000 of which contain abandoned cargoes of the Bureau of Customs-Port of Cebu.
Fernandez said that importers are supposedly given three days to process their documents with the BOC before their container vans are released. However, several of them failed to process the documents on time.
Of the 5,942 container vans, 2,885 have been reportedly overstaying for at least six days, 1,622 overstaying for seven to 30 days and 1,436 overstaying for more than 31 days, said Fernandez, citing yesterday's figure.
Currently, a daily truck ban (at least three hours in the morning and another three hours in the evening) is being implemented in the cities of Mandaue, Cebu and Lapu-Lapu and in the town of Consolacion.
Federico Escalona, executive director of Philexport, has said that their group has been lobbying to these LGUs to lift the truck ban, but no actions were taken.
Allan Empleo, president of the Cebu Truckers Association Inc., earlier said that the ban has affected the movement of container vans and has caused an additional cost on their part, especially on manpower.
The lifting of the truck ban was among the suggestions raised during the Port Summit early this year, which discussed the congestion problem at CIP.
OPASCOR is the exclusive cargo handling and arrastre services provider at CIP.
Meanwhile, to ensure easy delivery of fresh meat and fruits this Christmas season, OPASCOR has increased its reefer plugs at CIP to 214 outlets.
The company announced yesterday that it has added 144 completely energized reefer plugs to the existing 70.
Vasquez said these have been used since November 17 to help accommodate the growing number of reefer containers loaded or discharged at the port.
"It's a multi-million investment at around P12 million. With that investment, we have increased our cargo handling capacity by around 200 percent," said Vasquez.
When OPASCOR took over the storage facility from the Cebu Port Authority, only 45 reefer plugs were available at CIP.
The transfer to OPASCOR was reportedly one of the wishes of the Association of International Shipping Lines and was made as a pre-condition of the 2014 Tariff Increase effective on February 2014.
Vasquez said when they found out that the demand is still high, they decided to find another area at CIP and built their new reefers storage facility.
With the increase of their capacity, Vasquez said they are confident that for the next five to ten years, OPASCOR can handle the growing demand for reefers services.
Annabel Pulvera-Page, OPASCOR's legal and corporate development manager, also said the facility is expandable to additional 24 reefers plugs in case of sudden increase in volumes.
Aside from Christmas season, Engineering Assistant Manager Angelito Jose said they are also anticipating the opening of giant malls and supermarkets such as the Robinson's Market and SM Seaside City in Cebu.
The increase of reefers plugs at CIP would also mean an increase in the revenue of OPASCOR as importers and exporters are paying P58 per hour for 20-footer and P145 per hour for 40-footer container vans.
CPA is also getting 20 percent of the company's income.
Fernandez is hoping that importers would directly transport their refrigerated goods to Cebu port to lessen transportation cost that will redound to the unit price of the imported goods.
"Now that we can accommodate more containers, di na 'ta mahadlok nga daghan ta og reefer containers nga modunggo diha sa atong port," Pulvera-Page added. — (FREEMAN)