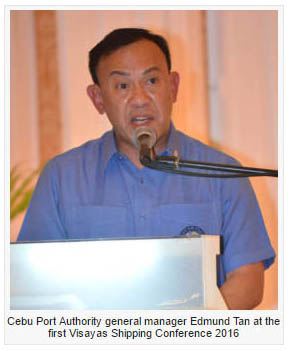 With the trade boom in the region, Cebu needs to establish a new container terminal in anticipation of bigger cargo volume and as a long-term solution to congestion at the existing hub, according to the Cebu Port Authority (CPA).
Despite improvements at the Cebu International Port (CIP), "the congestion at the CIP and its road network has become more serious due to increasing cargo volume," CPA general manager Edmund Tan said during the first Visayas Shipping Conference 2016 recently organized by PortCalls and the Philippine International Seafreight Forwarders Association in Cebu City.
"For other cargoes, due to the very narrow apron area, congestion during the loading and unloading is much more serious. Therefore, the efficiency of cargo handling decreases and the safety of port operations will become an issue," the CPA chief noted.
CIP has been experiencing berth and yard congestion since 2014 due to the increase in volume, high dwell time of containers, limited yard space and back up area, and truck bans. Tan said that although congestion these days is less serious than in 2014 due to some measures that have already been put in place, it could grow worse again come the peak season.
Tan said the proposed New CIP is "expected to provide a lasting solution to… congestion at the existing Cebu port and the shallow water depth of the Cebu international container berths."
He explained that shipping companies find the depth at the wharf too shallow for efficient and economical international shipping. The international port has a controlling draft of only 9.5 meters at mean low-low water (MLLW), while the draft of the domestic terminal measures only 6.5 meters MLLW.
Study backs call for new hub
A recent feasibility study by the Export-Import Bank of Korea proposed the construction of the new international terminal in Tayud, Consolacion, about eight kilometers from the Cebu base port.
Tan noted that the study, completed in July 2015, validates the findings and recommendations of previous studies suggesting a new Cebu sea hub.
The study was submitted last year to CPA's mother agency, the Department of Transportation and Communications (DOTC), for the secretary to approve and endorse to the National Economic and Development Authority (NEDA). Tan said NEDA is currently awaiting from DOTC the requisite documents that will facilitate NEDA Board-Investment Coordination Committee processing and approval.
Had the project been approved last January, Tan said construction would have been scheduled in August 2016. But even as the current administration's term is ending, Tan said he believes that whoever wins the presidency "will pursue with this project."
He urged the next administration not to start from scratch again but to take off from what the studies recommend.
The proposal calls for a new international container terminal with a project cost of P9.3 billion, and with features such as an operations building, container freight stations, a customs inspection section, a maintenance factory, and a substation for power supply.