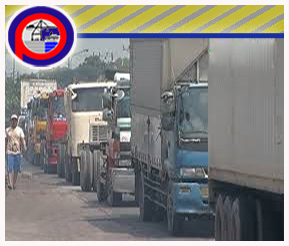 CEBU, Philippines - To address the "alarming" level of congestion at the Cebu International Port, an official of the Oriental Port and Allied Services Corporation appealed to local government units concerned to seriously revisit the ongoing truck ban.
"We strongly appeal for them to revisit the truck ban policy and seriously look into this problem," said Randy Vasquez, OPASCOR chief of finance and resource officer, describing the ban as one of the factors that contribute to the congestion.
Due to the lack of space at CIP, OPASCOR was forced to rent a space, - a 1.3-hectare lot fronting Sugbutel and another 2.2 hectare near SM City-Cebu. If combined, both spaces can accommodate at least 4,024 TEUs (20-footer container vans).
Jonathan Fernandez, OPASCOR chief for operations, said that CIP has a capacity of 7,707 TEUs, 5,411 of which are designated for imports. Currently though, there are already 5,942 container vans, more than 1,000 of which contain abandoned cargoes of the Bureau of Customs-Port of Cebu.